NT WeedMate App
The NT WeedMate app collects weed data points for general mapping purposes.
The app helps you:
collect information about the weed species, density and location
add extra information such as treatments, chemicals and growth stages if desired
organise your data in WMB standard format ready for mapping.
NT WeedMate works on iOS (Apple) and Android (Samsung Galaxy, Google Pixel, LG, Huawei, etc) devices using the ESRI Survey123 platform.
You will need to install both Survey123 and NT WeedMate on your device.
|
Step 1
Download and install the Survey123 platform.
Alternatively, Survey123 is readily available (free) to download from the following app stores:
Step 2
Check Survey123 has installed.
The Survey123 app symbol will appear on the device.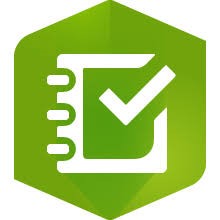 Step 3
Step 4
Download and install the NT WeedMate by going to https://arcg.is/1bP0PH
Collecting weed data with NT WeedMate is a quick and easy process that can be mastered in under an hour. A printable starter guide is provided that will help you get started and provide some time saving tip.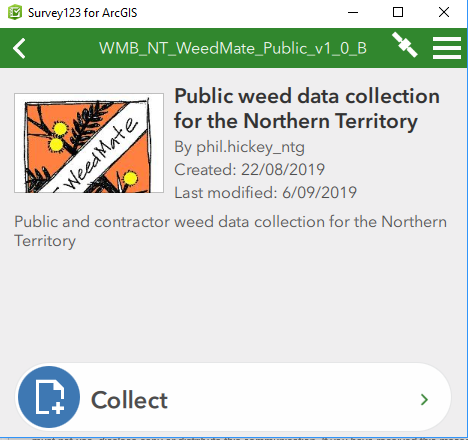 Step 1
To get started download the NT WeedMate getting started guide PDF (991.3 KB).
Step 2
Collect and send your weed data from the field.
Step 3
View your weed data on the web.
Webmaps and dashboards are effective ways to look at your survey data.
Contributors can only view and edit data that they have contributed.
Step 4
You can now download your weed data.
Your weed data can be:
directly copied from webmaps or dashboards instructions are provided in the starter guide or
accessed by sending a data request for your as KML or Shapefile by sending a request via email to weedinfo@nt.gov.au
The NT WeedMate is provided free for use under the terms of Creative Commons 4.0.
It is a condition of use that all data collected by WeedMate is provided for public use to the Northern Territory Government under the terms of Creative Commons 4.0.
Ownership of data is retained by the collector.
Last updated: 20 August 2020
Share this page: