Water licensing portal
The Water Licensing Portal has been developed to provide easy access to water licencing decisions for all current water allocation licences in the Northern Territory.
The Water Licensing Portal is a tool to provide easy access to all relevant legislative and administrative information, assessment investigations, planning information, current licence details and documentation in relation to each current and pending water extraction licences.
Information you will find within the Portal
Maps of the Water Control Districts and Water Allocation Plans in the NT
Water Advisory Committees
Current and Pending Licence information
Details of factors considered when assessing a licence application
Water usage and extraction information
Spatial and dashboard analytics
Supporting science documents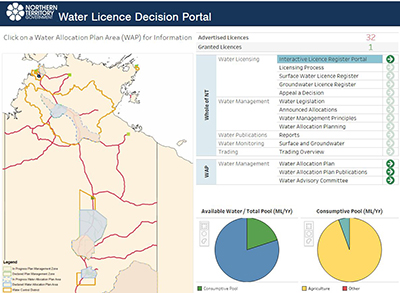 Go to the Water Licensing Portal
How do I use the Portal?
Glossary of Common Water Licensing Portal Terms
| | |
| --- | --- |
| NoI | A Notice of Intention (NoI) is required under Sec 71B of the Water Act -Under the Water Act, the Controller is required to make a NoI to make a water extraction licence decision. This notice is published in a newspaper circulating throughout the Territory, and where appropriate, in the general locality to which the application relates. This notice includes information relating to the application, such as where the water will be extracted from, what it will be used for and how much is being applied for. |
| NoD | A Notice of Decision (NoD) is required under Sec 71D of the Water Act -Following the granting of a water extraction licence, the Controller must give notice of the decision (NOD). This notice must give a brief statement of the reasons for the decision, where the full decision can be obtained, and options for appeal. |
| SoD | A Statement of Decision (SoD) is required under Sec 90 of the Water Act - a Statement of Decision (SOD) is provided by the Controller when a licence decision is made outlining all the relevant factors which were taken into account when a decision is made. These factors include the availability of water, if any water allocation plan applies, any adverse effects created by the activity, the quantity of water, the Beneficial use, and any other factors the Controller considers should be taken into account. |
| Pending | A water licence application has been received and a decision is yet to be made. |
| Granted | A water licencing decision has been made by the Controller of Water Resources. |
Contacts
For more information email waterresources@nt.gov.au
Last updated: 28 November 2017